Power Supplies
Pertronic Industries offer a range of fully monitored power supplies, suitable for powering ancillary fire alarm equipment
< Back to category
PDB
Power Distribution Board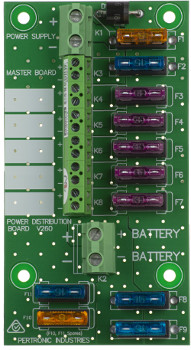 The Power Distribution Boards (F120PDB & PDB-GF) are fuse panels for distributing power from ELV battery power supply systems.
Each board has a parallel pair of input fuses feeding a common supply bus. The bus feeds seven separately-fused output circuits.
The F120PDB has blade fuses. The PDB-GF has 5 mm x 20 mm glass fuses.
Features
Fuse board for power distribution in 12 Vdc, 24 Vdc, and other ELV power systems
Reverse polarity protection for connected systems
Twin parallel battery input fuses
Seven separately-fused output circuits
Maximum total system (input) current: 30 Amps
Maximum system voltage: 60 Volts dc
---
Ordering Information
Power Distribution Board, 5mm x 20mm Glass Fuses
F120A Power Distribution PCB assy V220 (MK2, Blade Fuses)
---
Enquire about this product