Amplifiers & Accessories
< Back to category
Amplifier 60W 24V
EA60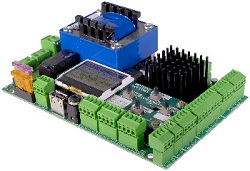 Available end of July 2021
The Pertronic EA60 Amplifier is a 60 watt audio amplifier for F220 and F100A fire alarm systems. It is designed for occupant warning, public address, background music, and other applications.
The EA60 features high-quality sound, a versatile range of easily-configurable options, and a built-in audible signal generator. It is suitable for all non-emergency and emergency applications.
The built-in audible signal generator provides a wide range of emergency and general purpose signals and announcements including the evacuation and alert signals specified in AS 4428.16:2020 and NZS 4512:2010. Additional signals including custom voice messages are easily added via the USB connection.
The EA60 also has three audio inputs suitable for local and/or remote microphones and external audio sources including background music.
An on-board keyboard and LCD display provide menu-driven configuration of operating settings, announcements, signals, and test and management features such as output load measurement. Configuration files can be saved and loaded via USB, allowing a single configuration file to be copied to multiple EA60 amplifiers.
With a large number of easily configurable options, the EA60 satisfies a wide range of audio system requirements.
Audible Signals
Built-in audible signal generator, controlled by:

RS-485: Up to twelve signals, or
Direct input sound control: Up to six signals, or
Warning System/Bell input: One signal, or
Fire panel input: One signal

Library of pre-defined audible signals including:

AS 4428.16:2020 evacuation and alert signals
NZS 4512:2010 evacuation and alert signals
50 pre-defined tones
23 pre-defined voice messages

Pre- and post-announcement chimes (configurable)
Four voice message "profiles": AU and GB, each with male or female voices
"Walk Test" and "False Alarm" announcements
Any item in the signal library may be assigned to any input address
Each input and each addressable signal has a pre-defined, reconfigurable priority level
Easy to use editing system for creating custom audible signals by combining tones, silence periods, and voice messages
Custom voice messages, voice profiles, and tones may be added to the on-board library via USB stick
Features
60 watt rms class D amplifier
Evenly balanced voice and tone loudness
User-friendly configuration with on-board keyboard and 5 x 16-character backlit display
Master-Repeater Mode allows one EA60 master amplifier to drive up to seven repeater amplifiers
ADM-4 interface provides up to four output channels per amplifier, individually selectable by the fire panel
Three balanced audio inputs with individual press-to-talk (PTT) or sound-activated (Vox) control

Input 1 may be configured as "Fire Mic", "PA Mic", or "Aux" input
Input 2 configurable as "PA Mic" or "Aux" input
Input 3 configurable as an "Aux" input, or as a single-ended stereo input, with the left and right channels combined in a built-in audio mixer
When the EA60 is configured as a "Repeater", input 3 accepts audio from the master amplifier

Configuration may be cloned via USB stick
Menu-controlled power measurement allows output load to be checked during installation or maintenance
Supervised 24 V dc 2-wire output for dual strobes:

Strobe colour determined by output polarity
Configurable to activate on any fire panel event

Assignable form C relay, configurable to activate on any combination of Common Fault, Amplifier Active, Amplifier Disabled or Isolated, Test Alarm, PTT, FIP Active, Strobe On, or Bell-In Active
Isolated RS-485 interface to Pertronic analogue addressable fire panels
Twenty-event time-stamped history log
Compatible with Pertronic and third-party fire panels
Resettable country presets for AU or NZ standards
Easily configured as a spare part replacement for the Pertronic EVAC50W24V (AU or NZ). Please refer to the EA60 Technical Manual for details.
Complies with AS 4428.16:2020 and NZS 4512:2010
---
Enquire about this product