Amplifiers & Accessories
< Back to category
ADM-2-PMB125
Audio Distribution Module 2-Way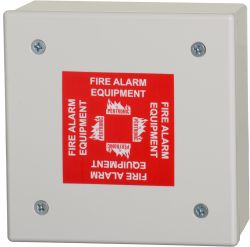 The Pertronic Audio Distribution Module (ADM-2-PMB125) creates a pair of independently supervised 100 V rms audio lines (channels). This module simplifies the provision of two separate audio channels covering one area or evacuation zone.
A system built with an ADM-2-PMB125 will continue operating even if one channel develops a fault. This ensures evacuation messages can be broadcast over the other channel. If either channel becomes short circuited, the shorted channel will be disconnected, but the output continues on the unaffected channel after a brief interruption. The module monitors the shorted channel, and it will reconnect the channel if the fault is cleared.
The module can be installed remote from the amplifier. The module can be powered from an analogue addressable loop, or from a separate 24 V dc supply.
The built-in fault supervision system continuously monitors the 100 volt output lines for open circuits or short circuits. In the event of a fault condition, the module signals a fault condition to the amplifier or evacuation generator.
Features
Simplifies installation of audio evacuation systems by providing duplicate supervised audio channels
A short circuit on one channel will be isolated (after a brief delay) allowing audio transmission over the other channel
Superior 80 watt per channel switching capacity
Powered from analogue addressable loop or separate 24 V dc power supply
Assists compliance with the fault isolation requirements of AS 1670.1: 2018, section 2.6
Earth connection for screened cable on the 100 V line
Local fault LEDs display existing (steady) or historical (flashing) faults, including separate S/C and O/C indicators for each channel
Fault relay with form C clean contact Reset switch allows historical fault indications to be cleared
Built-in analogue addressable loop isolator disconnects the loop if it develops a short-circuit
User selectable end of line input resistor to suit amplifier specifications
Compatible with Pertronic evacuation amplifiers, and amplifiers controlled by the Pertronic EVAC Generator
Compatible with third-party equipment including the Tyco QE 90 EWIS and the AMPAC EV3000
---
Ordering Information
Audio Distribution Module, 2 Way, Printboard Only
Audio Distribution Module, 2 Way, Mounted in PMB125 Enclosure
---
Enquire about this product