Amplifiers & Accessories
< Back to category
ADM-2-PMB125
Audio Distribution Module 2-Way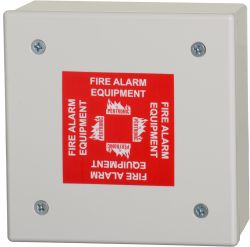 The Pertronic Audio Distribution Module (ADM-2-PMB125) creates a pair of independently monitored 100 Vrms audio lines (channels). This module simplifies the provision of two separate audio channels covering one area or evacuation zone.
The built-in fault monitoring system continuously monitors the 100 Volt output lines for open-circuit or short-circuits, irrespective of whether the system is broadcasting an evacuation message, broadcasting non-urgent audio such as background music, or idling with no signal.
The Audio Distribution Module independently monitors the output channels and signals a fault condition to the amplifier or evacuation generator in the event of a fault condition.
Features: 
Simplifies installation of audio evacuation systems by providing duplicate monitored audio channels
A short circuit on one channel will be isolated allowing audio transmission over the other channel
Assists compliance with the fault isolation requirements in AS 1670.1: 2015, s. 2.6
Superior 80 Watt per channel switching capacity
Reset switch allows historical fault indications to be cleared
Built-in analogue addressable loop isolator disconnects the loop if it develops a short-circuit
Compatible with Pertronic Evac amplifiers, and amplifiers controlled by the Pertronic EVAC Generator 
Compatible with third-party equipment including the Tyco QE 90 EWIS and the AMPAC EV3000 
---
Ordering Information
Audio Distribution Module, 2 Way, Printboard Only
Audio Distribution Module, 2 Way, Mounted in PMB125 Enclosure
---
Enquire about this product