Sounders (AAD)
< Back to category
BSO
AA Detector Base Sounder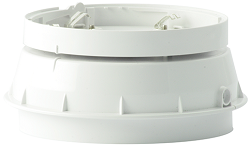 The Addressable Base Sounder integrates a sounder and a detector base into a single loop-powered device.
The sounder offers a choice of 32 tone sets and three volume settings, selectable by a set of DIL switches on the underside of the device. Each tone set has two tones ("stage 1", and "stage 2"). The control panel is able to activate either the stage 1, or stage 2, tone, via the analogue addressable loop.
The piezoelectric transducer minimises current consumption, enabling the analogue addressable loop to power a large number of devices without compromising the output sound level.
The Addressable Base Sounder is installed simply by a twist fit onto the B501AP base.
Short-circuit isolating versions are available. 
Features
Rear or surface cable entry
Low current draw enables more devices on loop
Adjustable volume control (on device or from panel)
Deep and waterproof base options
Pure White or Ivory ("Detector White") body colour
Address tag for clear indication
In-built isolation options
Simple familiar rotary wheel address controls
Common base with detectors (B501AP)
32 tone sets and three volume settings
---
Ordering Information
Intelligent Integrated Detector Base Sounder, Detector White with Isolation (Requires B501Ap-IV)
AA Detector Base Sounder, White, Non Isolation (Requires B501AP-IV Base)
Base Sounder, Pure White, Non Isolation (Requires B501AP-IV base)
---
Enquire about this product