Speakers
< Back to category
C2050
Horn Speaker 10 W IP66 Grey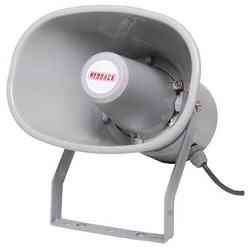 The Horn Speaker 10 W IP66 Grey (C2050)is a high efficiency 100V line speaker designed for emergency warning systems. It is more than ten decibels louder than a cone-type speaker with the same input power.
Screwdriver adjustable power taps facilitate sound level adjustment to meet project requirements such as area coverage and ambient noise level.
The dog-leg mounting bracket allows the speaker to be installed with the speaker still attached to the mounting bracket.
To ensure compatibility with commonly-used fire evacuation systems, the speaker incorporates a series blocking capacitor and 100V-Line transformer.
Features
Dog-leg mounting bracket
Very high acoustic efficiency
Suitable for indoor or sheltered outdoor locations
Excellent speech reproduction
Very wide sound dispersion
UV-stabilised ABS construction
Screwdriver adjustable power tappings
Loop In / Loop Out connection
Sound pressure, 104 dB SPL at 1 Watt, 1 metre
Fitted with series blocking capacitor and 100 Vrms line transformer
Compatible with EWS line supervision systems
---
Ordering Information
10W IP66 Grey QuickFit Horn Speaker
---
Enquire about this product