Accessories
< Back to category
F220AUXRLY
F220 Aux Relay Board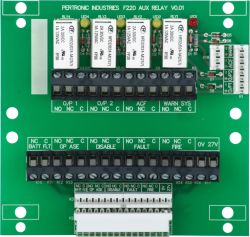 The F220 Aux Relay board F220AUXRLY provides four relays with single non-monitored contact outputs. These relays operate by direct connection to the Output 1, Output 2, ACF and Warning System outputs on the F220 Main PCB Assembly.
In addition connection terminals provide alternative connection for Alarm Signalling Equipment (ASE).
This enables the F220 to be compatible with a wide range of ASE / transmetter connection requirements.
Features
Makes ASE connector available for extend connections
Converts four (WARN SYS, ACF, Output 1 and Output 2) monitored relay outputs to single pole Type C clean contacts
Footprint and connector designed to accept piggy back mounted 8 way open collector relay board (8WCOMR)
If ASE connected to K10 - K17, monitoring Voltage / Currents may be present on K10 - K17
LED indicators for each relay, lights are ON if relays are active (Red: WARN SYS, Yellow: Others)
---
Ordering Information
F220 Auxiliary Relay board
---
Enquire about this product