Aspirating Smoke Detection
Aspirating smoke detectors deliver highly accurate standard detection, early warning fire detection, and very early warning fire detection for a variety of applications including mission-critical facilities such as data centres
< Back to category
VSP-860
Refrigerated Storage Sampling Kit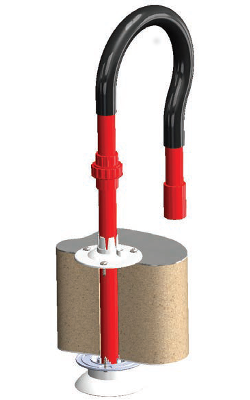 The Refrigeration Sampling Kit (VSP-860) consists of a funnel-shaped sampling nozzle and a kit of parts for installing the nozzle inside a cold storage facility. This type of sampling nozzle is recommended for areas where higher humidity can be expected (for example, as a result of vehicle and/or pedestrian traffic).
The nozzle is designed to reduce blockages caused by ice buildup.
The installation kit allows the nozzle to be installed inside the facility, with a sampling tube passing through the sandwich insulating panel. This tube connects with a sampling pipe located outside the cold area.
The nozzle and other components for use inside the cold area are made of ABS plastic, suitable for temperatures down to -40 °C (-40 °F).
Features
Enables the sampling pipe to be installed, inspected and maintained outside the refrigerated storage facility
Suitable for facilities with and without ceiling cavities
Eliminates the need for expensive HDPE high density polyethylene) pipe inside the refrigerated storage facility
Less prone to ice blockage than cone-shaped sampling nozzles
Recommended for installation in areas where higher humidity can be expected
---
Ordering Information
Vesda Freezer Room Sample Point Kits ( Complete)
---
Enquire about this product