Manual Call Points
< Back to category
MCP5A
Resettable AA MCP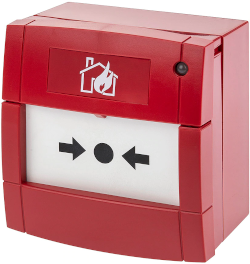 The Analogue Addressable Manual Call Point (MCP5A) is a manually-operated fire alarm switch.
The MCP5A has a flexible plastic activating panel. When pressed, this flexible element slides downward, activating an internal switch which triggers the alarm signal. The flexible element remains in the activated position until it is physically reset.
When activated, the MCP5A sends an alarm signal to the fire panel. An indicator LED on the front of the MCP5A lights continuously in the alarm condition, confirming that the fire panel has received the alarm signal.
The MCP5A communicates with the fire panel over the analogue addressable (AA) circuit. The MCP5A's address on the AA circuit is configured using two rotary switches on the underside of the product. These switches are accessible only if the MCP5A is removed from its mounting. The MCP5A's indicator LED may be configured to blink periodically, confirming that the AA circuit and the MCP5A are operating normally.
The MCP5A manual call point is supplied with a test key (SC070). When inserted into the call point, the test key triggers an alarm condition without moving the flexible element. The MCP5A returns to normal when the test key is removed.
The test key is also used to remove the lower part of the front panel to reset the flexible element, to access the mounting screws, or to change the flexible element.
To comply with the requirements of AS 1670.1:2018, this manual call point must be fitted with a PS200 protective hinged cover (sold separately).
Features
Analogue addressable communication
Flexible element may be reset using the test key (SC070)
Integral red LED controlled by the fire panel. Blink - normal; Continuous - alarm
Plug-in four-way screw terminal connector for Line In + Line Out termination
Rotary address switches
Built in isolator
Low standby current
Inserting test key activates the alarm condition without disturbing the flexible element
Supplied complete with

Back-box for surface mount applications
Test key

Activfire listed afp - 3158
---
Ordering Information
KAC Resettable AA MCP (Red) c/w loop isolator - surface mount with mounting box
---
Enquire about this product