Extinguishing Agent Release Systems
Pertronic Industries offer a range of Extinguishing Agent Release products that provide cost effective, powerful and flexible solutions.
< Back to category
AVS-WP
Weatherproof Visual Sign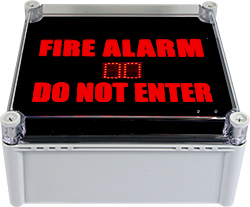 The Pertronic Industries Weatherproof Visual Warning Sign has been designed to provide reliable visual alerts as required by AS 4214 and ISO 14520, within an IP66-rated enclosure. The Visual Warning Sign uses the latest LED technology to provide high visibility and improved performance compared to other technologies. An on-board microcontroller provides eight (8) stage selectable Backlight operating modes and a 90 second (maximum) Countdown Timer. An LED matrix is available as an option for visual indication of a Countdown Timer. The Visual Warning Sign supports 2, 3, or 4-wire standard connections. Configuration DIP Switches provide tone control for each of two stages.
Features
Sleek, low-profile design 
Dual stage configuration options 
Optional LED Countdown display 
IP66 Rated Enclosure 
Low current consumption 
2-wire, 3-wire and 4-wire operation 
Large range of visual messages available
---
Ordering Information
Audio Visual Sign, IP66 Weatherproof, no sounder (Requires Separate Fascia)
A/V Sign, Countdown Fascia, Fire Alarm, Do not Enter, Red, Weatherproof
A/V Sign Fascia, Fire Alarm, Do Not Enter, Red, Weatherproof
A/V Sign Fascia, Fire Alarm, Evacuate Area, Red, Weatherproof
A/V Sign Fascia, Extinguishing System Inoperative, Amber, Weatherproof
A/V Sign Fascia Gas Discharged Blue Weatherproof
---
Enquire about this product