Mimics, Repeaters & Interfaces
Pertronic Industries offer an extensive range of Mimic and Repeater Displays. This includes: LCD Mimics, LED Mimics, Ancillary Peripheral Outputs & Displays, and General Purpose Interface Boards
< Back to category
48WOC-IF
48 Way Open Controller Board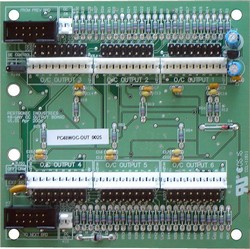 Pertronic Industries manufacture a range of RS-485 Ancillary Peripherals for Pertronic fire alarm panels. These products allow project-specific outputs and/or displays to be added to fire alarm systems built with Pertronic panels.
The ancillary peripheral product range includes controller units and output/display units.
RS-485 to 48-Way Open Collector O/P Board is well-suited for applications requiring custom-built displays with large numbers of LEDs.
It is also frequently used with the Pertronic 8-Way Common Relay Board (8WCOMR) to provide multiple clean-contact (unmonitored) relay outputs. Refer to the 8-Way Common Relay Board datasheet for details.
---
Ordering Information
RS485 to 48 Way Open Collector O/P Board
---
Enquire about this product