Mimics, Repeaters & Interfaces
Pertronic Industries offer an extensive range of Mimic and Repeater Displays. This includes: LCD Mimics, LED Mimics, Ancillary Peripheral Outputs & Displays, and General Purpose Interface Boards
< Back to category
NET2-AMMA
Net2 Alarm Mini-Mimic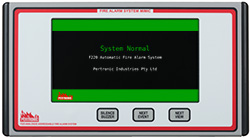 The Pertronic Net2 Alarm Mini-Mimic provides remote access to information from a Net2 Network System. This network mini-mimic displays only Alarms and Warning System On. It is designed for use by staff who are responsible for responding to alarms.
This unit may be programmed (using FireUtils®) to display information from selected zones, selected F220 panels, or the entire network.
The Net2 Alarm Mini-Mimic has the same 7 inch (180 mm) colour LCD display used on the F220 fire alarm control panel. The coloured display screens clearly identify the panel status. Red status bars and large easy to read text descriptors identify the Alarm mode.
Features
Remote display for Net2 Network System
Seven-inch 800 x 480 pixel TFT LCD colour display
Coloured display screens clearly identify panel status
Easily readable 5 mm text height on Alarm screen
NEXT VIEW button: Switches between different Event Type screens
NEXT EVENT button selects either: The next device in alarm, from the Alarm View; or the next alarm in the list, from the Alarm List
SILENCE BUZZER button
Local alarm buzzer
Internal local buzzer disable switch
Output for a remote alarm buzzer
Cable length up to two kilometres, when using a Pertronic RS-485 Repeater/Splitter
---
Ordering Information
F220 Network Alarm Mini-Mimic AUS
---
Enquire about this product