Speakers (AS ISO 7240.24)
< Back to category
CF2053 Speaker
Horn Speaker, 10 Watt, IP66, AS ISO 7240.24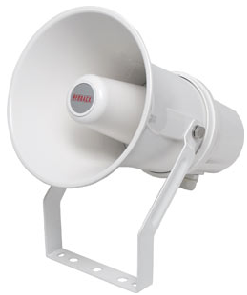 The Horn Speaker, IP66, 10 Watt (CF2053G) is a high-efficiency AS ISO 7240.24-certified 100 Volt-Line speaker designed for emergency warning systems. It is more than seven decibels louder than a cone-type speaker with the same input power.
Adjustable power taps provide sound level adjustment to meet project requirements such as area coverage and ambient noise level.
The rear cover is attached with a twist-lock mechanism. This provides tool-free access to the screw terminals, to save time when terminating the cables.
The offset mounting bracket can be installed without detaching the speaker.
The enclosure is made from tough UV-stabilised flame-retardant ABS.
To ensure compatibility with commonly-used fire evacuation systems, the speaker incorporates a series blocking capacitor and 100 Volt-Line transformer.
Features
High acoustic efficiency
Wide sound dispersion
Rated power 10 W @ 100 Vrms
Offset mounting bracket
Tool-free access to terminal block
Two cable glands provide for separate loop in and loop out cables
Four-way screw terminals for loop in/loop out connection
Adjustable power tappings: 1.25 W, 2.5 W, 5 W, 7.5 W, 10 W
Sensitivity: 98 dB SPL at 1 Watt, 1 metre (pink noise per AS ISO 7240.24)
Fitted with series blocking capacitor and 100 Vrms line transformer
Compatible with EWS line supervision systems
IP66 dust and water resistance
UV-stabilised fire-retardant ABS construction
Stainless steel mounting hardware
Independently tested to AS ISO 7240.24:2015, Type B (requires active equalisation)
ActivFire certificate afp-3200
---
Ordering Information
AS7240 Speaker Horn Fire Rated 10W Grey
AS7240 - Speaker Horn Fire Rated 10W White
---
Enquire about this product