Emergency Warning Systems
< Back to category
ETS
Emergency Telephone System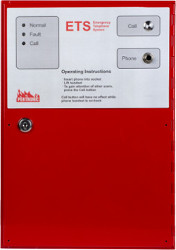 The Pertronic Emergency Telephone System (ETS) is a self-contained, fully protected telephone system for the exclusive use of fire-fighters. The system provides party-call communication between fire-fighters. It is intended for facilities in which the emergency services radio communication system is likely to experience difficulties, or as otherwise specified by the local fire authority.
The ETS consists of an ETS Master Controller, up to 100 ETS Isolating Jack-Points located throughout the facility, and a set of up to ten portable ETS Handsets. A purpose-built lockable cabinet with shelf space for up to ten Pertronic ETS Handsets is also available.
The ETS Master Controller has a built-in backup battery. It will continue to function if all other telephones or electrical systems fail. The battery and system wiring are supervised for faults.
Short-circuit isolators are built in to every jack-point, and to the loop terminals on the master controller. A single wiring fault (open or short circuit) will not affect the operation of any handset in the system.
Advantages of the Pertronic system include excellent audio quality, battery condition monitoring, fault tolerance due to the presence of a short-circuit isolator in each jack-point, and automatic recovery from fault isolation.
System Features
Excellent audio quality when wired with twisted-pair cable
Fault tolerant: The system is fully operational with a single short-circuit or open-circuit cable fault
Operates over a loop of twisted pair cable, with both ends connected to the Master unit
Automatic recovery when the fault condition is resolved
Up to 100 Jack-Points, 10 Handsets
Separate terminals for Loop-Out and Loop-Return connections
Daily automatic battery capacity check
Automatic battery present test performed every ten seconds
Historic fault indication
External DC supply input, for external battery-backed power supply
Complies with Melbourne MFB Guideline GL-01, v.6: The Installation of MFB Emergency Telephone and Leaky Cable Communication Systems
Master Controller
Metal wall-mount cabinet
Internal backup battery
Power supply supervision
Battery supervision (missing battery and low voltage)
Wiring supervision – open and short circuit faults
Audible (buzzer) and visible (LED) fault indications
External supervisory fault relay output (clean contact, form C)
Detailed internal fault indication
Handset
Mounted in metal carry box with carry strap
Compact and lightweight (1.4 kg )
Jack-Point
Automatic short-circuit detection and isolation
Fits Australian and New Zealand industry-standard fire-rated electrical single flush-boxes
May be installed in third-party surface-mount boxes
Loud internal ringer (70 dBA @ 1 metre)
Call button to alert other users
External indication of isolator activation
Symmetrical loop interface with two interchangeable LOOP connections
Phone Storage Cabinet
Powder-coated steel construction
Five shelves with room for ten ETS Handsets
Clear polycarbonate window
Standard firefighter's key lock
---
Ordering Information
Emergency Telephone System Master
Emergency Telephone System Isolating Jack Point
Emergency Telephone System Portable Handset
---
Enquire about this product