Project Profiles
A Pertronic F220/Net2 Fire System Protects Users of Sydney's M4 East Motorway Tunnel
Tweet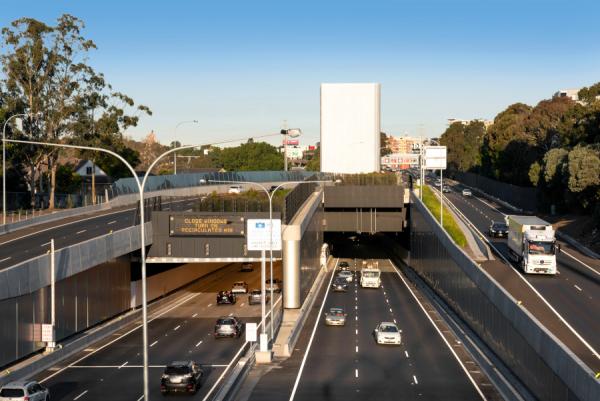 The 5.5 kilometre six-lane M4 East tunnel is the main feature of a 6.5 km extension to Sydney's Western Motorway.
The M4 East fire system is based on a Pertronic F220/Net2 network with ninety-three F220 fire panels. Duplicated Pertronic NET2CARD Modbus interfaces connect the fire system with the tunnel's plant monitoring and control system. A Pertronic FireMap® graphic user interface is connected to the network via dual Pertronic interfaces.
Fire detection in the tunnel is based on six LIOS fibre-optic linear heat detection systems (three for each carriageway) connected to F220 fire panels via Pertronic SPIB-LIOS (Modbus) interfaces. The networked F220 panels also monitor heat and smoke detectors in cross passages, equipment areas, and buildings throughout the tunnel complex, together with hydrocarbon detectors in the drainage sumps, and aspirating smoke detectors in server rooms.
The tunnel has two parallel carriageways. Each carriageway is divided into deluge suppression zones, typically 30 metres per zone.
The Pertronic network automatically controls deluge valves and evacuation warning devices, based on data from the linear heat detectors and pre-programmed cause and effect logic.
The Pertronic FireMap® graphic user interface provides touch-screen control and monitoring of the fire detection and suppression systems. This allows tunnel operators to over-ride the automatic suppression system when manual intervention is considered appropriate.
With more than 11,600 inter-panel mappings, programming the M4E fire system was a major undertaking. Pertronic FireUtils® simplified this challenging task. A complete configuration programme for the M4 East F220/Net2 system uploads through a single connection in less than six minutes.
Pertronic Industries congratulates WestConnex on the successful completion of the M4 East motorway.