Project Profiles
F220-Net2 Fire System for Victoria Police Headquarters
Tweet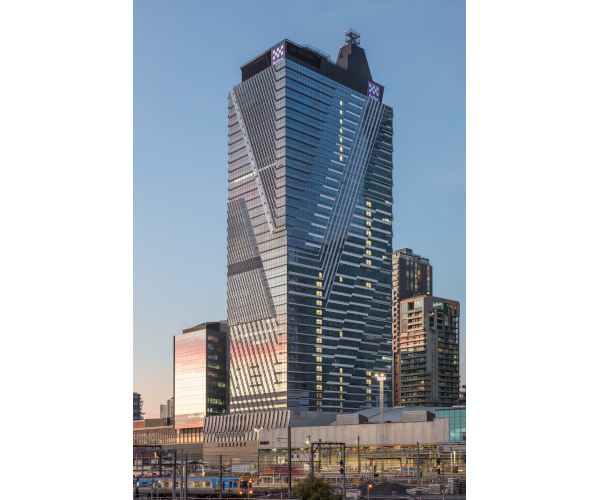 Occupants of the Victoria Police Headquarters building enjoy the protection of a Pertronic F220-Net2 fire detection, alarm, and evacuation system.
Located alongside Melbourne's City West Police Station, the A-grade commercial development was opened in June 2020. The 40-storey building has a four-level basement, parking for 600 cars, and a rooftop heli-pad. More than 5,300 people work at Victoria Police HQ, including senior police leaders, head office staff, and specialist units such the Critical Incident Response Team, Special Operations Group, and Bomb Response Unit.
The fire alarm system is controlled by five networked Pertronic F220 analogue addressable fire panels. The main fire panel in the ground floor fire control room has an F220-Net2 Network Control Unit which gives full control of the network and access to all fire system information.
he sub-fire panel in plant room on level 19 also has an F220-Net2 Network Control Unit. An additional, remote network control unit is located in the level 39 pump room.
In addition to the main and sub fire panels, the network system includes three F220 suppression panels controlling gas suppression systems in two communications rooms, and in the main server room.
The Pertronic network also monitors five third-party suppression systems in the lift motor rooms, and another third-party suppression system covering the heli-pad.
The car parks in the basement, ground floor, and levels one and two are covered by aspirating smoke detectors monitored by the main fire panel.
Unwanted Alarm Management
Multi-criteria detectors in selected zones trigger two-stage warning signals. A smoke alarm from the detector's optical smoke sensor activates the local buzzer and displays an alarm screen on the relevant fire panel and all network control units. This alerts building management staff to a possible smoke incident, without calling the fire brigade. However, if the multi-criteria detector reports a heat alarm, the F220 network initiates a general fire alarm.
In the event of a general fire alarm (from any source), the F220-Net2 Network calls the fire brigade and initiates an evacuation. All lifts park at the ground floor, while the network activates the smoke control system, which is designed to maintain air quality on important evacuation routes including the stairs. The network also triggers the building's EWIS, which advises occupants to evacuate the building.
Speaking at the building's official opening, Chief Commissioner Graham Ashton said: "This is the latest and most prominent project in our modernisation program, as we usher in an exciting new chapter for Victoria Police."
Pertronic Industries congratulate the Victorian Police on the successful completion of this impressive facility.
Numbers: Victoria Police HQ
| | |
| --- | --- |
| F220 Fire Panels | 5 |
| Net2 Network Control Units | 3 |
| Photoelectric Smoke Detectors |  3,055 |
| Multi-Criteria Detectors |  82 |
| Heat Detectors |  26 |
| Input or Output Modules & MCPs | 1,733 |
| Total Analogue Addressable Devices |  4,896 |
| Fire Fan Control Blocks |  148 |
| Third-Party Suppression Panels |  6 |