Project Profiles
Pertronic F220 Fire System for Luxury Waterfront Apartments at Sydney's Northern Beaches
Tweet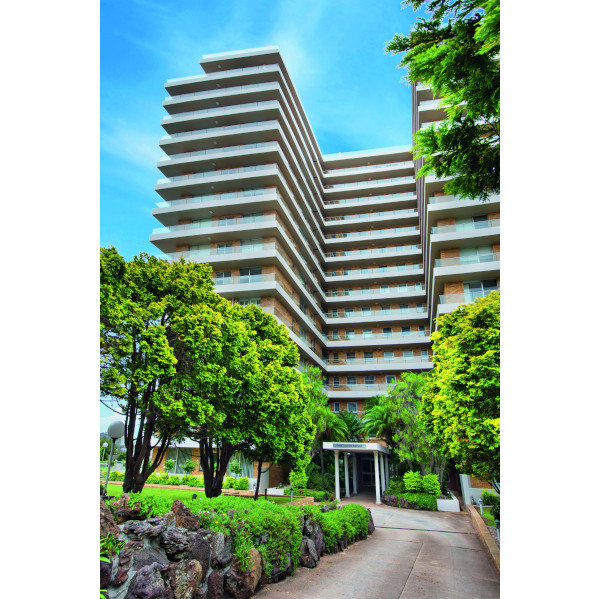 One Lauderdale is a 17-storey apartment building at Sydney's Northern Beaches. Occupying a prominent waterfront site, the building has 58 apartments, and is a ten-minute walk from the Manly Ferry Wharf.
Fire protection at One Lauderdale was recently upgraded to a Pertronic F220 analogue addressable fire detection and alarm system. To avoid disturbing apartment walls and ceilings, existing conventional detection cabling was re-used for the analogue addressable signalling line circuits.
The Pertronic F220 has eight Pertronic 8-Spur Isolators (8SAAIB). Each of these devices can connect up to eight two-core cables to the F220 as analogue addressable spurs. The 8-Spur Isolators allowed the conventional detection cabling to be re-used in the new F220 analogue addressable system.
Conventional detectors were replaced with plug-in analogue addressable detectors. Forty-three photoelectric smoke detectors were installed in the lift lobbies, stairwells, and ground floor building management areas. The apartments are monitored by 477 heat detectors and 110 Acclimate multi-criteria heat and smoke detectors. The F220 also monitors a water-flow switch to detect sprinkler activation.
Two-Step Occupant Warning
The new One Lauderdale fire system has 244 LASS-series addressable sounder bases. The LASS sounder base allows an alarm sounder and an analogue addressable detector to be installed in a common base.
Addressable sounder bases are located in bedrooms and selected locations in each apartment. They have also been installed in the lift lobbies.
The F220 is programmed with a two-step alarm system. The first step provides early warning of smoke alarm incidents. If an Acclimate detector reports a smoke alarm, the F220 activates only addressable bases within the affected apartment. It does not call the fire brigade.
A heat alarm from an Acclimate detector, or an alarm from any other detector, activates all alarm devices throughout the building, and calls the fire brigade.
Manly-based Zenite Fire & Electrical Services designed and installed One Lauderdale's new Pertronic F220 system. It's a great example of the use of Pertronic 8-Spur Isolators and addressable alarm devices to update an existing building.
The new system provides better occupant warning than the old system, which consisted only of bells in common areas. The addressable sounder bases provide warning within each apartment, and they are able to wake sleeping occupants.
Analogue addressable detection makes it easier to identify the source of any alarm signal.
Pertronic Industries congratulate Zenite Fire & Electrical Services on the successful completion of this interesting project.