Project Profiles
Pertronic F220 Network for Esplanade Norwest
Tweet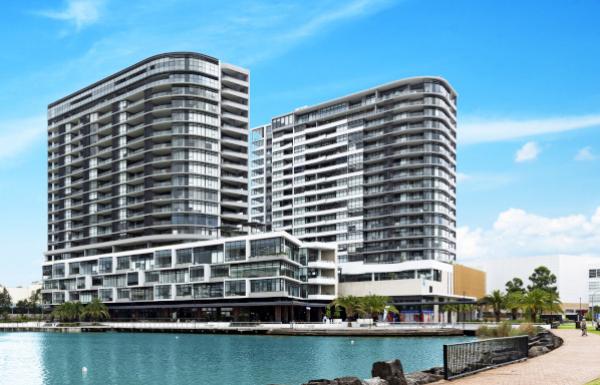 Pertronic F220 Network Protects Occupants of Sydney's 20-storey Esplanade Norwest
Completed in May 2020, Esplanade Norwest dominates the suburb of Norwest, 35 kilometres north-west of the Sydney CBD. The multi-use development consists of two residential towers with four-storey podiums, separated by a covered lane-way. There are 252 apartments with up to four bedrooms. The podiums and basement contain retail and office space, common areas for residents, and a five-level car park. Ground floor retail tenancies in the northern podium open on to a board-walk overlooking a lake.
A pair of networked Pertronic F220 fire panels controls and monitors the fire detection and alarm system at Esplanade Norwest. The fire panel network monitors more than 640 analogue addressable smoke and heat sensors covering retail, commercial, common, and car-parking areas. In addition, the fire panel network monitors analogue addressable sensors throughout the sprinkler system. Based on signals from these sensors, the F220 master panel in the southern building displays the exact location of any alarm activation in either building. The F220 sub-panel in the northern building shows details of alarm activations within that building only.
In the event of a fire alarm, the F220 network automatically calls the fire brigade and activates evacuation warning and intercom systems (EWIS) in both buildings.
Evacuation
The EWIS systems advise building occupants to evacuate the complex according to pre-determined evacuation plans. The areas nearest the source of the alarm activation, and areas which are most likely to be immediately affected, are evacuated first. The evacuation system is designed to safely evacuate the entire development, unless an authorised person (such as a fire-fighter) over-rides the system.
To ensure satisfactory air quality along evacuation routes, the F220 network takes control of ventilation equipment such as fans and dampers.
Landmark
Norwest was established as a new suburb in 2018. Esplanade Norwest is a major landmark, adjacent to Norwest Marketown, overlooking Norwest Lake and dominating the local skyline.
Pertronic Industries are very pleased to have been chosen as the fire alarm and evacuation system supplier for Esplanade Norwest.