News
F220 Mimics Put Fire System Information Where It's Needed
Tweet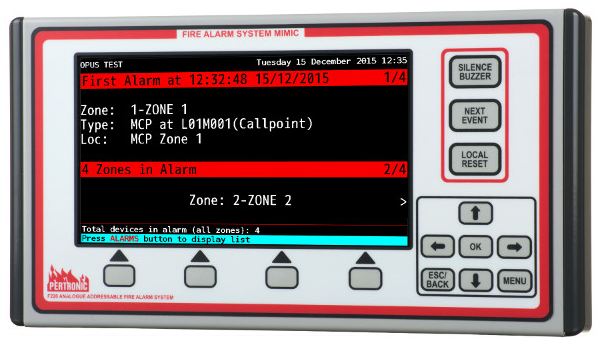 With the introduction of two new mini mimics, we now offer a complete range of mimic (repeater) displays for F220 fire alarm systems. The new mini-mimics feature the 840 x 480 pixel colour LCD used on the F220 Keyboard/Display and the F220 Full-Function Mimic.
The F220 Alarm Mini Mimic is designed for people who must respond to fire alarms, but do not need any other information from the fire alarm system. Unless there is an alarm condition, the F220 Alarm Mini Mimic shows only the green System Normal display. If there's a fire, the mimic sounds an alarm and automatically shows the Alarm View. This screen shows the exact location of the device or devices that triggered the alarm. Users can easily switch between the Alarm View screen, and the Alarm List screen, which shows a complete list of all devices in alarm.
Users who need more functionality may need the F220 Enhanced Mini Mimic. This provides access to all F220 event lists and event logs, including information about Pre-Alarms, Faults, Disablements, Active Events, and System Events. The F220 Enhanced Mini Mimic is designed for users who need more than the basic alarm information. It has a local reset button that can be enabled or disabled via an internal DIP switch.
As its name suggests, the F220 Full Function Mimic does everything the F220 Keyboard/Display can do. Like the mini mimics, this unit connects to the F220 fire alarm control panel over a four-wire RS-485 bus, which may be up to two kilometres from end to end.