News
Upgrading Production Processes at Pertronic
Tweet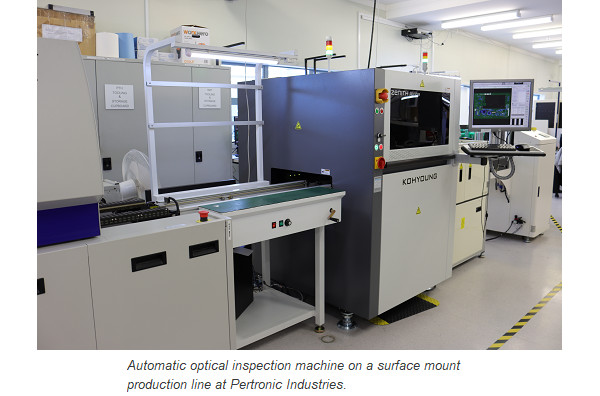 Our surface mount assembly lines were recently upgraded with new automatic optical inspection (AOI) machines. The $200,000 machines automatically create a three-dimensional image of every surface-mount component on every printed circuit board assembled at our Lower Hutt factory.
The AOI machines automatically read and verify component markings such as resistor values, integrated circuit code numbers, and polarity markings. They can highlight missing or misaligned components. The three-dimensional images allow the new AOI machines to accurately assess solder joint shape and volume.
Automatic inspection and testing provides rapid feedback that allows Pertronic engineers to fine-tune product designs for optimum quality. A recent example shows how the AOI machines have been integrated into quality engineering at Pertronic Industries. During a pre-production prototype run, an AOI machine identified a solder joint that contained less solder than our engineers would have liked. Information from the 3D models made it easy to optimise the design.
To make this type of improvement without digital instrumentation may involve many hours of painstaking work. Our new machines can image, model and analyse a printed circuit board with more than 600 individual components in about 25 seconds.
Many Firebits stories introduce new features that lead to better or more economical fire systems. These practical improvements are often underpinned by production process upgrades. Our investment in automatic optical inspection is part of an on-going process improvement programme that ensures every Pertronic product is the best it can be.